The number of mares covered in Australia has held steady at around 20,000 in the last five years for which full records are available. In 2020, the number dipped by just 195 from the 2019 total, a negligible difference.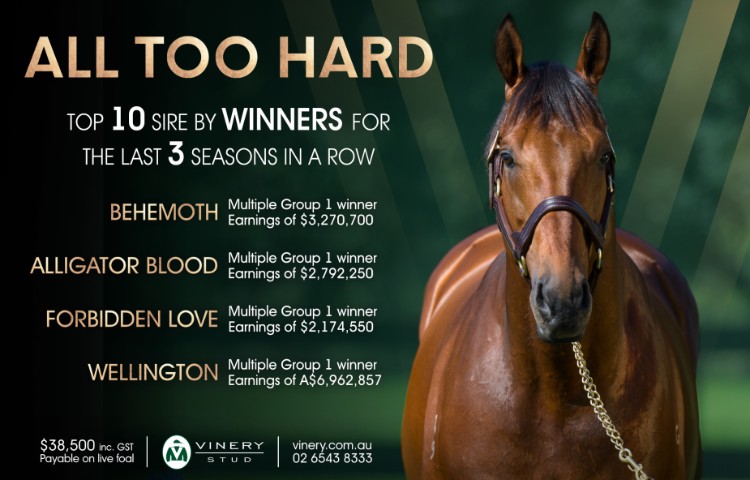 However, whilst covering figures remain constant, the number of stallions standing in recent years has decreased markedly, in what is perhaps a sign of a convergence of power at the top of Australian breeding.
There were 618 stallions standing in Australia in 2016, accounting for 13,151 foals born in 2017 at an average of 21.28 foals per stallion. This reduced to 525 stallions standing in 2020 at an average of 24.08 foals each in 2021.
In New Zealand the number of stallions dropped too, but the number of live foals they produced dropped even further. Where there were 182 stallions standing in 2016 who accounted for an average of 19.05 foals each, this dropped to 160 in 2020 for an average of 17.3 foals each.
Big books
In terms of stallions making an impact in the 2022/23 season, having a large team to represent them is obviously favourable. This is especially true of 2-year-olds, as proven by the top three sires by juvenile winners, Better Than Ready, Spirit Of Boom and Deep Field, in the 2021/22 season – all of whom covered over 200 mares in 2018.
Deep Field and Better Than Ready both covered over 200 mares again in 2019, whilst in 2019 Spirit Of Boom covered 46 fewer mares.
Gallery: Stallions who covered over 200 mares in the 2018 season
Fertility must also be considered though and doing so leaves Better Than Ready at a slight disadvantage, as the number of live foals from his 2019 stud season dropped by 30, to 150.
This leaves Deep Field at the top of the list, with 173 live foals to represent him as 2-year-olds this season.
Of the top stallions in Australia, the biggest jump in crop numbers was seen by Dundeel (NZ), who will be represented by 59 more 2-year-olds this season than last. With Super Seth and Castelvecchio stepping out impressively from his debut crop and shining through their late 2-year-old and 3-year-old seasons, Dundeel's crop was more than tripled for the following season. The bumper crop of 169 foals conceived off the $66,000 (inc GST) fee will be followed with keen interest both this season and into their Classic year.
| | | |
| --- | --- | --- |
| Deep Field | 173 | 256 |
| Rubick | 172 | 262 |
| Dundeel | 169 | 209 |
| So You Think | 164 | 234 |
| Russian Revolution | 156 | 224 |
| Capitalist | 154 | 208 |
| Better Than Ready | 150 | 216 |
| I Am Invincible | 146 | 207 |
| Toronado | 132 | 197 |
| Pierro | 106 | 217 |
Table: Top 10 stallions in Australia by live foals born in 2020 and covers of 2019
Last season's 2-year-olds were produced off the back of a bumper year for 'big book' stallions; in 2018 there were 13 individual sires with books of greater than 200 mares. In 2019 that dropped to nine.
However, this isn't always a predictive marker for success.
Rebel Dane is proof that it takes just one good horse to fly the flag for their sire. His was of course last season's G1 Golden Slipper winner Fireburn, whose exploits largely accounted for his being crowned Champion 2-Year-Old Sire last season with only five runners.
A repeat will be challenging, as he covered just 11 mares for seven live foals in 2019.
Gold Standard was also remarkable last season when placing 10th by earnings in the 2-year-old sires' table and second amongst the first-season sires, with just 42 live foals representing him. These included Group 1 winner Sheeza Belter.
He'll have exactly the same number next year, and whilst he may well pull off a similar feat, it will be a few years until his success is assisted through increased numbers on the track.
Established star stallions
Second to Rebel Dane in the 2-year-old sires' table was Snitzel, and whilst his mare numbers were down for 2019 (which saw a drop from 135 live foals to 109), he looks a likely contender to command for the lead again given he covered an exceptional book of mares.
In New Zealand, last season's Champion 2-Year-Old Sire Almanzor (Fr) looks set for another big season with his juveniles, as he recorded 100 live foals from his 2019 stud season, up six from the previous year.
For many superstars on both sides of the Tasman, their numbers remain similar, including for Savabeel, So You Think (NZ), Nicconi, Written Tycoon, I Am Invincible, Toronado (Ire) and Capitalist. Sire sensation Extreme Choice, who produced incredible results from a limited book last season of 29 foals, heads into this season with similar numbers.
Widden Stud resident Zoustar will have a big crop of 3-year-olds to run for him this season, having covered 243 mares in 2018, up 61 from the previous year. It will be interesting to follow this crop as they hit their straps, given 25 of his 50 stakes horses found black type at three - more than at any other age.
The new season will also see the last crop of 3-year-olds for Sebring, who passed away following the 2018 season, from which he left a final crop of 152 live foals. That crop saw him finish eighth in the Australia 2-Year-Old Sires' Premiership, and his progeny tend to train-on well.
New kids on the block
Ever reliable in stirring excitement is the first-season sire table. As highlighted earlier, numbers tend to be important in doing well here. Leading the way by live foals in Australia is Yulong Stud's Grunt (NZ) – whose 146 is only slightly fewer than the 157 which represented Russian Revolution last season.
That total saw the exceptional Newgate resident crowned Champion First Season Sire. Interestingly, the top five first-season sires by live foal numbers occupied four of the top 10 spots in that table last season.
| | | | |
| --- | --- | --- | --- |
| Grunt | Yulong Stud | 146 | 178 |
| Trapeze Artist | Widden Stud | 129 | 180 |
| Written By | Widden Stud | 106 | 148 |
| The Autumn Sun | Arrowfield Stud | 102 | 167 |
| Lean Mean Machine | Aquis Farm | 93 | 148 |
| Harry Angel | Darley Stud | 92 | 129 |
| Showtime | Arrowfield Stud | 90 | 129 |
| Encryption | Eureka Stud | 88 | 135 |
| Prized Icon | Kooringal Stud | 84 | 115 |
| Santos | Aquis Farm | 83 | 137 |
Table: Top 10 first-season sires in Australia by live foal numbers
By that logic, and given his breeding (being by prominent 2-year-old sire Snitzel) and race record, Slipper-runner Trapeze Artist is in for a big season, whilst fellow Widden Stud resident and G1 Blue Diamond S. winner Written By is also set to make an impact.
Although their live foal numbers are a little lower, both Harry Angel (Ire) and Showtime also have every chance. The former was a high-class 2-year-old himself in Europe, winning the G2 Mill Reef S., a famous juvenile race in the UK and his yearlings found favour amongst top trainers.
Whilst Showtime never won as a 2-year-old, he ran with credit in some of Australia's top juvenile contests and is another by the elite sire of juveniles in Snitzel.
In New Zealand, The Oaks Stud's shuttler U S Navy Flag (USA) has the strongest hand with his first season of Southern Hemisphere 2-year-olds. His progeny of the same age in the Northern Hemisphere have already produced a handful of winners.
He is closely followed by Embellish (NZ), who has 89 live foals in his debut crop.
| | | | |
| --- | --- | --- | --- |
| U S Navy Flag | The Oaks Stud | 90 | 150 |
| Embellish | Cambridge Stud | 89 | 138 |
| Staphanos | Novara Park | 76 | 109 |
| Ace High | Rich Hill Stud | 72 | 97 |
| Ardrossan | Waikato Stud | 44 | 68 |
Table: Top five first-season sires in New Zealand by live foal numbers