Cover image courtesy of Ashlea Brennan
The three-day National Yearling Sale will complete a blockbuster period for Magic Millions with both the National Weanling and Broodmares Sales surpassing all expectations.
The previous best average for the Weanling Sale of $62,910 was obliterated in 2021 to $105,638 with the Shadwell Disperal, but still held its own at a very strong average of $89,504 this year.
The baton then passed to the Broodmare Sale with exceptional results again posted with the average of $226,507 only just shy of a record-breaking $229,443 in 2021, compared to $139,217 in 2020. The aggregate of $124,352,500 was slightly down on the $142,943,000 in 2021, again a massive jump on the pandemic-effected $57,079,000 12 months before that.
"The results speak for themselves; it's been a fantastic Weanling Sale and extraordinary Broodmare Sale. The team have worked very hard to put it all together and it's been a fantastic result for our company and our vendors," Bowditch told TDN AusNZ.
Yearling Sale completes the season
More than 450 yearlings will go through the sales ring across Tuesday and Wednesday, with 120 sires – including Capitalist, Deep Field, Dundeel (NZ), Exceed And Excel, Extreme Choice, Fastnet Rock, I Am Invincible, Lonhro, Not A Single Doubt, Russian Revolution, Snitzel, So You Think (NZ), Written Tycoon and Zoustar – all represented.
"There's plenty of opportunity amongst it, we've got a strong catalogue of horses and a very diverse catalogue," Bowditch said.
"There's plenty of opportunity amongst it (National Yearling Sale), we've got a strong catalogue of horses and a very diverse catalogue." - Barry Bowditch
"This is a sale where vendors are looking to be realistic, buyers can find value and the results of the Sale speak for themselves, when you can buy a Behemoth for not a lot of money, or two of the best horses in Hong Kong at the moment in Lucky Patch and Tourbillon Diamond.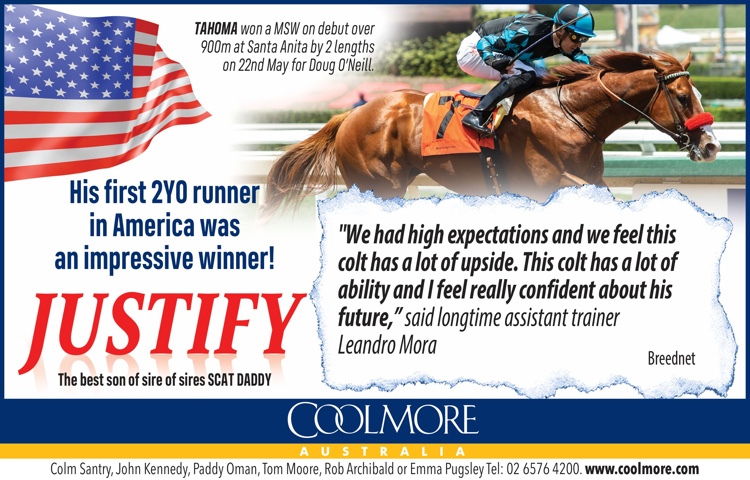 "It's a sale that produces quality animals.
"There's a good number of buyers here, but I do think it's a sale where there's opportunity all over the complex.
"We are mindful of the fact that we've had an extraordinary year selling yearlings, this year; there's never been more money spent in a yearling sale market here in Australia as what there has in 2022.
"This is the last sale and we're hopeful to finish off strong… we expect buyers to find value along the way."
Extreme bang for Bhima
The new year started in fantastic fashion on the Gold Coast for Bhima Thoroughbreds, and Mike and Kate Fleming are confident they can finish the season in style at the two-day Magic Millions National Yearling Sale, which commences on Tuesday.
They will offer six yearlings at the Magic Millions National Yearling Sale, but Mike Fleming, Bhima's owner and manager, told TDN AusNZ there is a queen amongst the crop.
"The standout for us is (Lot 1613) the Extreme Choice filly. We'll see where she ends up," Fleming said.
"He (Extreme Choice) has sold well all year; he's been an exceptional sire and doing everything right with limited numbers. She's a lovely filly, a good-moving filly with a great temperament.
"She was entered for sale earlier in the year, but had a little setback, so the owners had to regroup and make sure she was 100 per cent.
"She's copped a couple of preps really well. The market will determine what her value is."
Extreme Choice has swept all before him this year, with his daughter She's Extreme winning the G1 Champagne S., while Espiona, Extreme Flight, Extreme Warrior and Tiger Of Malay have won at stakes level.
This filly is the third foal of 1600-metre winner Diamond Meteor (Northern Meteor). Her second foal, Russian Meteor, is an unraced 2-year-old in the care of Bill Papazaharoudakis, while her first foal, Diamond Tipped (Capitalist) is a 3-year-old trained by Nathan Doyle, who has had two starts.
"She's (Lot 1613) a lovely filly, a good-moving filly with a great temperament." - Mike Fleming
She is related to Group 2 and Group 3 victress Paradee (Epaulette) and Listed winner Law (Denman).
A strong support cast
Bhima Thoroughbreds' draft is made up of a Nicconi colt (Lot 1465), a Santos filly (Lot 1475), an Invader filly (Lot 1514), a Pride Of Dubai filly (Lot 1602) and a Pride Of Dubai colt (Lot 1617).
"Santos has some good results early on, we sold a really nice filly that made nice money," Fleming explained. "He looks sharp, he looks early.
"Invader just needs to come out, like every horse, get a good horse and he'll be away."
Fleming, who has a wealth of knowledge and experience, having worked in Japan, New Zealand and Australia, has also been a "little bit" surprised by strong the industry is, given the interruptions related to COVID.
"I think it's surprised everyone a little bit. The clearance rate at Magics January was 94 per cent, and I think if you'd have said that would be an outcome during a pandemic, you probably would have been laughed at," said Fleming.
"The appetite for buying horses… I don't think anyone could have imagined the strength of this market at the start of this year.
"The year has been exceptional from weanling sales to yearling sales to mare sales. Right across the board, the market is really healthy. There's plenty of competition on the right horses, whether it be a yearling, weanling or a mare," said Fleming.
"There's some really nice horses here, too, so there's no reason why it won't carry on for a bit longer."
Magic Millions National Yearling Sale
Bhima Thoroughbreds