Emerging trainer Lloyd Kennewell has made no secret of his ambition in both the sales ring and the racetrack of late and having collected over $6m worth of yearlings in the past four months, the pressure is on for him to deliver.
Kennewell, emboldened by the success of his star mare Viddora (I Am Invincible) and his recent move to Victoria, made a splash at the Gold Coast Magic Millions Sale in January, when he orchestrated a $1.7m heist with Ozzie Kheir and Aquis Farm to claim an I Am Invincible colt which topped the sale.
He has backed that up with another significant purchase on the first day of the Inglis Australian Easter Yearling Sale in Sydney on Tuesday, coming together with Spendthrift to pay $1.7m for Lot 38, a colt by seven-time champion Japanese stallion Deep Impact (Jpn).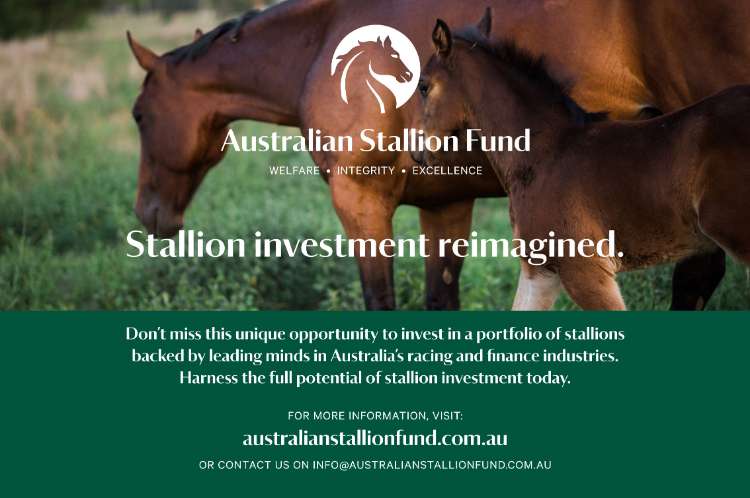 "I'm really having a crack and I want to get my name out there," he said. "In fairness, it's now up to me and the horses to do the talking. It's all good and well to buy these horses but now I have to get the business end done."
"The next 12 months is going to be hard work, we need to get these horses going as 2-year-olds and also respect the ones that might need at a little more time and get them there as 3-year-olds."
"I'm really having a crack and I want to get my name out there." - Llyod Kennewell
This year's spending spree has been enabled by the support of key clients as well as the partnerships he has built with other major players, including Spendthrift, who have never had a horse with the young trainer before.
"It's the first horse we'll have with Lloyd. It was a good drink we had at the bar at the Intercontinental last night to put our syndicate together and we are looking forward to him being part of Lloyd's team now that he's established himself in Melbourne," Spendthrift Australia's general manager Garry Cuddy said.
Playing with the big boys
Kennewell said utilising his existing connections, such as those with Cuddy and Spendthrift's Head of Nominations Josh Rix, in order to get him access to top-end quality bloodstock, is a strategy he had been working on for some time.
"We've wanted to do this for a while. I'm pretty ambitious, but that's why I work hard. I don't get much sleep and family life suffers sometimes but when you've got this going on, it's a really crucial time of my career," he said.
"I'm pretty ambitious, but that's why I work hard." - Lloyd Kennewell
"I've got the next five years ahead of me which are looking really promising and I just want to drive it home."
While campaigning Viddora overseas and maintaining the momentum built when he moved his stable to Melbourne last year, Kennewell has also been undertaking a substantial renewal of his stables.
"I can only fit 31 in the stable at the moment. We're entering a new phase where we are moving on a lot of the old horses we've got from Adelaide and we have got all these beautiful babies in the stable. The next two years, I'm really looking forward to," he said.
Crucial in Kennewell's new strategy has been childhood friend and now bloodstock consultant Matt Becker from Group 1 Bloodstock.
"Everyone knows we have a long-term relationship and as kids we knew each other. It's good, we can drive on now. He's pretty instrumental in what I am doing. If you can team up with someone like that, it makes it a lot easier, and then I've had a good relationship with Josh and Garry, which has been invaluable," he said.
Getting in Deep
As for Lot 38, Kennewell already has grand plans for the son of Deep Impact, who was offered by Arrowfield.
He is from Grito (Redoute's Choice), who hails from a family with a host of Group 1 winners, including Microphone (Exceed And Excel), who won last Saturday's G1 Inglis Sires' at Randwick.
"He was the first horse that I saw when I got here. I kind of knew he was the one all the time," he said. "He's probably going to be a really good 3-year old I think, but he's got a bit of late 2-year old about him."
"I kind of knew he was the one all the time." - Lloyd Kennewell
"He's probably a bit different to the Deep Impacts we have seen out here in the last couple of years and I think everyone was very buoyed by what they saw. He's very well balanced, he's got a good brain, he covers the ground well and he's got that great muscle definition on him and I can't wait to get working with him," he said.
"Some of the Deep Impacts we have seen over the past few years here have been a bit more leggy and have taken a bit more time."
"I thought Tony McEvoy bought a lovely filly here last year here for Sheikh Bin Khalifa, who ran second to Jedastar at Flemington (Enood). She ran early as a 2-year-old and I think this colt looks more precocious than her," he said.
While $1.7m was the third-highest price on Day 1, Kennewell feels the colt represented some value.
"You are not going to steal a horse through this sale, especially one of the top lots." - Lloyd Kennewell
"If you see that sort of horse go through a Japanese sale, he makes $2m US. I think the value we were looking at was there. We valued him at that money and that's what we had to pay to get him. You are not going to steal a horse through this sale, especially one of the top lots," he said.
The other Deep Impact to go through the ring on Tuesday was Lot 124, who was sold to Aquis for $950,000.
There are two other Deep Impact colts listed to sell on Wednesday, both offered by Arrowfield, with a strong possibility that the Japanese star could end up as the leading sire by average at the sale.
Deep Impact was recently stood down from stallion duties in Japan to allow him overcome a neck issue.