Gerald Ryan has never been one of racing's bells and whistles men. He's not a flashy type nor has he ever been one to push his own barrow too much publicly. He's focused intensely on one thing and that's his horses and getting the very best out of them.
For more than 30 years he's been one of the country's most astute trainers and the recent retirement to Widden Stud of his star galloper Trapeze Artist got many thinking about how many of his top racehorses have gone on to become successful stallions.
After some digging around by his bloodstock team, the number has turned out to be bigger than they even first thought.
A grand total of 19 horses have passed through the 63-year-old's stable to join the national stallion ranks, with several also headed offshore.
The list of stallions he's produced includes Snitzel (Redoute's Choice x Snippets' Lass), Trapeze Artist (Snitzel x Treppes), Rubick (Encosta de Lago x Sliding Cube), Hinchinbrook (Fastnet Rock x Snippets' Lass), Hurricane Sky (Star Watch x Dancing Show), Baryshnikov (Kenmare x Lady Giselle), Spill the Beans (Snitzel x Miss Dodwell), Clangalang (Clang x Little Recruit) and Time for War (Snitzel x Lady Zabelia), to name a selection.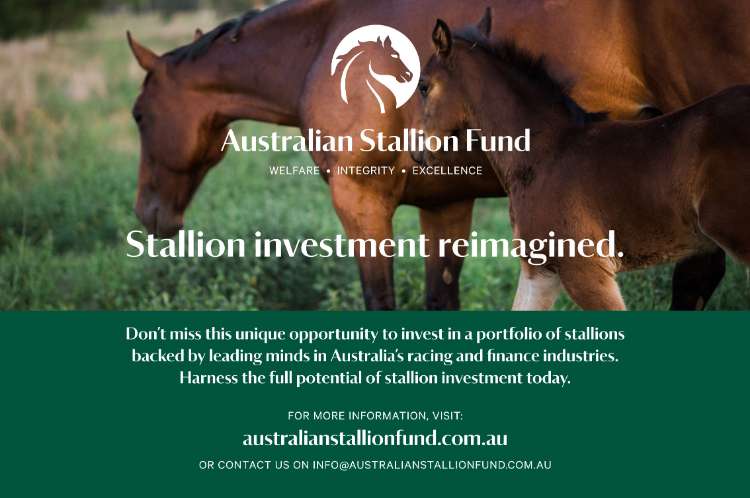 Mr Snitzel
When I ask Gerald which of all the stallions he sent off to stud over the decades is the dearest to his heart, he falls completely silent for a few moments. With tears welling up in his eyes, he pauses to gather his emotions and then answers with one word, Snitzel.
He's Australia's super stallion. Now 16 years of age, he's produced 721 winners from 969 runners, 89 stakes winners and his sons and daughters have amassed more than $135 million in prize money.
Snitzel's honour roll includes Redzel, the two-time winner of the world's richest turf race The Everest, and Group 1 winning 2-year-olds Estijaab and Invader. He is now having the opportunity to become a sire of sires, with Sizzling, Wandjina and Spill the Beans among those at stud.
When in training with Gerald, Snitzel won the G1 Oakleigh Plate (1100m) as a 3YO. In 2006, after 15 starts and more than $1 million in career earnings, he was retired to stand at Arrowfield Stud, home to his legendary sire Redoute's Choice.
"When we bought Snitzel, we said if he could gallop that he would make a stallion but never in our wildest dreams did we think he would do what he's done," Gerald says with great emotion.
"When we bought Snitzel, we said if he could gallop that he would make a stallion but never in our wildest dreams did we think he would do what he's done," - Gerald Ryan
"He's the dearest to my heart not just because of what he's done now but right from the word go when I bought him and won the Breeders Plate (1000m). Every time I asked that horse to do something he delivered.
"He was easy (to train) but he could be revvy and was probably the coltiest out of the lot of them. I threw a lot at him as a 2YO and he came back better as a 3YO. I'm not surprised his horses get better as they get older because that's what he did."
"For Snitzel to do what he's done is unbelievable. When people ask me what's the right type of Snitzel I just say buy them they all run."
Selecting the stars
So why do so many of Gerald's horses make stallions?
A low key and quietly spoken type of bloke, he admits he hasn't, until now, really given it too much deep thought. Apart from the fact he's a darn good trainer, the longer the interview for this story goes on, the more reasons for this phenomenon start to emerge.
Making the right selection at the yearling sales is the first obvious step in the whole process. When you observe Gerald inspecting young horses he's completely in the zone and can be seen puffing on the odd cigarette as he scans his eagle eye over each horse.
He's got a routine and strict set of criteria that he's been sticking to since he first began attending horse sales with his mentor Owen Lynch when he was 19. It begins at the top of the horse.
"The head. You don't see many good racehorses with bad heads. And feet. No foot, no horse."
"Also, athleticism and strength. I don't like big heavy horses or tall horses. Most good horses that go to stud are not big horses."
A complete deal breaker for Gerald is a horse that possesses weak hocks. And he has his own set of thoughts about the importance of x-rays.
"I take it or leave it. It depends on what it is (the issue) and how much you like the horse."
His case in point being Group 1 winning filly Snitzerland.
"I had five vets look at her and the last one passed her and I bought her. That's how much I wanted her," he says with a laugh.
Temperament is also of paramount importance for Gerald.
"You can tell their temperament as soon as they come out of the box. If you have a doubt then you speak to the stud. We've been around long enough to know the people on the studs so we ask them and they will tell you the truth."
Generally, he believes the yearling sales are "all opinion" and gut feeling is the most important thing to listen to.
"If you don't follow your gut it's a waste of time looking at them. As someone once said to me, if you don't listen to that little man inside of you who do you listen to?"
"You can come in and pick out a yearling you love. Whether you pay $25,000 or $2.5 million, to get it to the racetrack and be successful is the aspect I love about it all."
Achieving the best result
Gerald knows that journey all too well, having selected and turned out hundreds of winners at racetracks across Australia. He says the trick is not letting exorbitant price tags or potential stud value affect judgement and decisions.
"Even if it's a million-dollar colt, let him go to the bush and win a race and get his confidence up. It makes the horses."
"It was a lot easier placing horses ten years ago than now. Owners have too much say where they go. It's best to discuss it, but then make a decision that is best for the horse."
Many of Gerald's horses started their careers on provincial tracks, including his latest retiree to stud, Trapeze Artist. He won a 1250m maiden on debut at Newcastle starting at the long odds of 20/1.
"A lot of people go wrong and they try to make them stallions before they are racehorses." Gerald Ryan
"Most of them started at provincial tracks. It has a huge impact on them longer term. A lot of horses end up running above their ability because they have gone to races at their first two or three starts and have won."
"It's about running them in the right races. You have to be careful where you run them and that you don't go to the races unless you can run really well."
He says another notable fact is that all his top colts have never gone shin sore in training.
"That could be why they can cop the pressure. Their bone density is good and that makes good stallions."
"You have got to preserve them, train a racehorse first but once they get a profile a lot of people go wrong and they try to make them stallions before they are racehorses."
"I would say to any young trainer, if he has got a set way that he thinks he should do things, then stick to it. Don't read into the media or the pressure from studs, which I know is hard sometimes because they put up the big dollars."
"And, if you go into races where the horse is not quite right, you have got to make the public aware of it and the reasons why."
Trapeze Artist next in line
As evidenced in Saturday's Group 1 TJ Smith Stakes (1200m) at Randwick, it's also important to convey after they run why they might not have performed up to expectations. Trapeze Artist ran 7th after he tore a muscle in his near-side shoulder. It haemorrhaged and a haematoma formed that blew up like a football.
Gerald and the horse's owner Bert Vieira announced that evening he would be retired to Widden Stud immediately.
"I think you go as far as you can and then pull up if something is hurting them. If you keep pushing, they won't try anymore. I'm not disappointed he's gone to stud because he has done his job."
Gerald is deeply fond of Trapeze Artist and has enormous faith he will join the many others he has ushered out his front gate to become major success stories as stallions.
"He won more Group 1s than any other horse I trained and that proves his durability and strength."
"He's a horse that had the capability of running 2000m. If he is mated right, he could get a top sprinter or a good stayer. I think he's got the build and the hindquarter of Bletchingly, he could get good sprinters and good stayers. Trapeze Artist might get a Derby horse or an Oakleigh Plate horse."
Time will tell, but if Gerald's stallion making record thus far is anything to go by, Trapeze Artist is a big chance to fly at stud.