In life there are certain people who leave a lasting impression when you first meet them.
Back in 2008 on assignment filming a story for Sky's Bred to Win programme, I was bouncing along in a 4WD surveying paddocks of horses at Coolmore Stud in the Hunter Valley. The driver was a bright blond-haired Irishman by the name of Sebastian Hutch. He was talking at a million miles an hour and with so much enthusiasm about the farm I thought he was going to burst.
Apart from his passion, what struck me was his incredible knowledge considering he'd barely set foot on Australian soil.
Fast forward to 2019 and this young man is now the General Manager of Bloodstock Sales at Inglis.
Late last year Mark Webster, the company's Managing Director, lured Hutch from his post as Sales, Marketing and Racing Manager at Coolmore Australia to join his team.
In the official press release announcing the appointment Webster stated;
"We have taken the decision to up the ante at Inglis and increase our investment in senior Bloodstock resources.''
Hutch is being groomed along with several other senior executives as internal candidates to potentially take over the Managing Director role at Inglis one day. It's a smart strategic move by Webster and the Board of Inglis who failed to find a suitable candidate for the very specialised role after an exhaustive recruitment drive last year.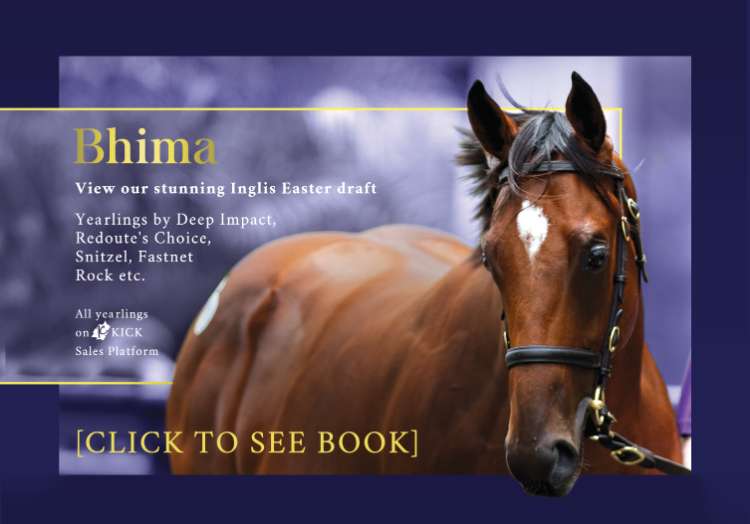 Turning a hobby into a career
Hutch, 34, grew up in Kanturk, a town in the north west of County Cork, Ireland. He studied business and legal studies at the University College of Dublin which qualified him to practice as a solicitor.
"My mother was very enthusiastic about me becoming a solicitor but I was less than enthusiastic." - Sebastian Hutch
"They were four disciplined diligent years. My mother was very enthusiastic about me becoming a solicitor but I was less than enthusiastic," said Hutch.
He hails from a long line of veterinarians in his family. His father, grandfather and great grandfather were all vets and naturally that exposed him to many horses during his childhood in Ireland and through that he grew to really love the animal and had designs on becoming a racehorse trainer.
"I always wanted to pursue my hobby as a career. I thought it would be a great idea for a period of time to be a trainer but over time you become a bit more pragmatic about your considerations."
Hutch spent time working in the stables of some of the world's most revered horsemen including champion Irish trainer John Oxx during the period where he had horses such as 2003 Irish Derby winner Alamshar (Ire) (Key of Luck) and 2004 Irish Champion Stakes winner Azamour (Ire) (Night Shift) in his care.
"His management of top-class horses was something to behold as was the respect his staff had for him, it was a fantastic place to work. It was the equivalent of someone who loved soccer going to work at Manchester United."
As the Irish often do, he then ventured to America where he joined Hall of Fame trainer Neil Drysdale for a stint.
"I really enjoyed America and American racing."
Of Drysdale and Oxx he said;
"They were both very patient horsemen which is ironic in the context of Australia because much focus is on horses that mature early. They allow their horses to tell them when they are ready to go and work hard to keep their horses sound."
Apart from their supreme skills at getting the best out of their horses, what impressed Hutch the most about both men was the way in which they ran the human side of their operations.
"They maintained consolidated teams of people for massive periods of time and that's a mark of those men. I took as much from the manner in which they ran stables as they ran people. In the job like I have now you take a lot from that."
After working in the stables of the two legendary trainers the chance of a lifetime presented.
Australian opportunity
"You follow the path that unfolds in front of you and I was given the opportunity to work for Coolmore. I didn't envisage that I would end up in Australia."
Hutch had previously built a relationship with the iconic breeding and racing empire spending six months working in the office of their marketing guru Richard Henry.
"To work there was extraordinarily good fun and the volume of info that was consolidated and collaborated in his office was almost incomprehensible. The work that goes into promoting an elite stallion and racing operation is fascinating to observe and it was a privilege to be part of it."
"The work that goes into promoting an elite stallion and racing operation is fascinating to observe and it was a privilege to be part of it." - Sebastian Hutch
"He's running a business in a hugely competitive industry and has to get things right at a high level to satisfy objectives and exceed expectations. It's not by accident that someone like him has been so successful. He works extremely hard and has enormous experience."
"He's always made a conscious effort to be aware of what's going on in the industry and the market perceptions and trends. Coolmore has always been aware of the evolutionary nature of the business."
After receiving the tick of approval from Coolmore's inner sanctum, who are amongst some of the hardest markers in the racing world, Hutch was sent to Australia in August 2008.
"It was only originally planned to be for 3-4 months. Not long after that Tom and Michael Kirwin asked if I would stay a little longer. It wasn't a hard decision to stay."
Hutch took a position in Coolmore's nominations team previously held by James Harron who was finishing up to go into his highly successful joint venture with Hubie De Burgh.
"Henry Field was in the office and I came in as a junior member of the team to help with the workload."
Challenging early days
He admits his early days at Coolmore Australia were challenging.
"To be perfectly honest it was hugely overwhelming because it wasn't a market that I was familiar with. I had no exposure to Australian culture and racing and breeding. I had heard of Redoute's Choice (Danehill) and Encosta De Lago (Fairy King) but didn't have an affinity with it."
So this was when his "four disciplined diligent years" of studying to become a solicitor came into play.
"My early objective was to get familiar with the mechanics of how the industry worked. I didn't want to be deficient in what I did. You have to get to a point of being perceived as an expert. Information accumulation and learning were paramount in getting me to a point of being comfortable talking to breeders about matings and stallions. A lot of that first year was spent reading and going to the races."
During that time, he fell in love with Australian racing and decided to continue working Down Under.
"A lot of my friends at home asked me the reason why I stayed down here. There isn't a point in the calendar year where there isn't something stimulating or engaging happening in the sport of horse racing in this country. You never feel redundant from the point of view of your interest."
"There isn't a point in the calendar year where there isn't something stimulating or engaging happening in the sport of horse racing in this country." - Sebastian Hutch
It was an exciting chapter at Coolmore with stallions such as So You Think (NZ) (High Chaparral) and Pierro (Lonhro) joining the famed roster.
"To be around at a time when the purchase of Pierro was being negotiated was a hugely exciting time at the farm as he was such a household name. To see him go on as the top-class stallion that he is now is enjoyable to watch."
When opportunity comes knocking
After a decade with Coolmore, last year the next opportunity came along and that was to join Inglis as it embarked on its own period of evolution.
"When Mark (Webster) approached me, I was very happy at Coolmore but also very curious about the impetus and stimulus a new opportunity would give me."
"You never stop learning and I viewed the opportunity at Inglis as being able to continue to learn and develop further. It sounded fascinating and an environment where I felt like I could make a contribution," he said.
Hutch is about to embark on his first Inglis Australian Easter Yearling Sale working for the company and is brimming with positivity about how the auction will perform.
"We have had a very fulfulling sales season so far. But we are always looking at ways to do things better. The team is working extremely hard. There are a lot of very talented enthusiastic people and people with great high volumes of experience and when you marry all those features together in a team it's a very competent and effective team of people and the sales give us the perfect opportunity to demonstrate our abilities."
"Easter is going to be a fundamental part of that. It is the most significant sale in the Southern Hemisphere. It produces the best horses year in year out and that's not a subjective thing, it's a fact. You only have to look at the graduates and recognise that consistently the best horses emerge from this sale."
Beginning on April 9, it will be the second Inglis Australian Easter Yearling sale held at the new Riverside complex at Warwick Farm, a facility Hutch has enormous regard for.
"I know from my experience as a vendor and my time at Coolmore that the facility is a fantastic one for both vendors and buyers. It's an ideal environment to appraise horses. You want to be able to present your horse in the best possible light. The facility lends itself to doing that. There's lots of space. As it stands today, it's a premium facility for the presentation and sale of elite yearlings weanlings and breeding stock and that satisfies the demands of both buyers and vendors."
Now only four months into the role with Inglis, Hutch says he's still on a steep learning curve.
"It's going to take me some time to find my feet and Mark has been very understanding, as has everyone. I ask questions that some people might think are silly questions every day. It helps me further my understanding of the mechanics of the business."
That approach of being constantly open to learning has so far taken the the Irishman on a successful journey with a world leading racing and breeding operation, and there's no doubt it will put him in very good stead to one day lead Inglis, Australia's oldest Thoroughbred auction house.