Lyre's pedigree is full of Woodlands Stud influences: her sire Lonhro carried the famous colours as did Lyre's grandam Mnemosyne.
A daughter of Encosta de Lago, Mnemosyne won her first race at Rosehill and was immediately stepped up to Group level and was never dropped in class again in her next 20 starts. In her four remaining two-year-old races, she ran second three times, including in the G1 Sires' Produce and was fourth in the Golden Slipper.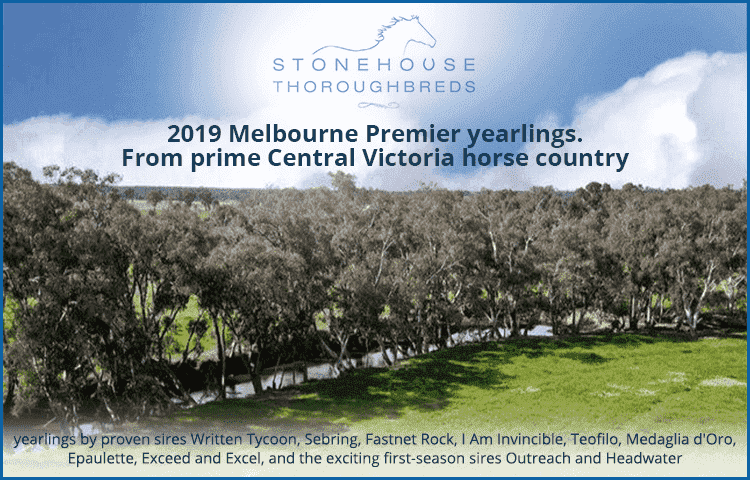 But in the spring of her three-year-old season, she really blossomed – graduating in both class and distance – with consecutive victories at G3 and twice at G2 level, before winning the G1 Thousand Guineas over 1600m at Caulfield. She carried her G1 form over to the autumn with a third in the G1 Coolmore Classic, a couple of weeks before adding the G1 Queen of the Turf Stakes to her resume.
In terms of class, Mnemosyne was rated 119 at two by Timeform, three points shy of Champion two-year-old Stratum, and one below Fashions Afield, her conqueror in both the Golden Slipper and Sires' Produce Stakes. As a three-year-old, the Woodlands colour bearer was assessed at 122 by Timeform, the highest rating for filly of her age in Australia.
Mnemosyne's stud record
Mnemosyne's stud career started inauspiciously with the Commands gelding Eleuther, who got his head in front on only one occasion in 37 outings. Her second foal Forget, a gelding by Exceed And Excel, fared better, earning a Timeform best of 110 and winning a G3 at Newcastle.
Her third – Lyre's dam Erato by Street Cry (Ire) – showed no signs of any class, her best effort being a third at Hawkesbury over 1100m as a three-year-old in a short five-race career. Another Street Cry filly, the G2-placed 111-rated Memorial followed in 2011, but she eventually hit the jackpot with her 2013 colt Impending by Lonhro. At last Mnemosyne had a foal worthy of her own ability.
As it transpired, Impending was – like his dam – awarded a 122 mark by Timeform after a successful career that featured victories in the G1 Stradbroke and G1 Kingsford-Smith Cup. He's just completed his first season at stud and was the leading stallion standing in Victoria by number of mares bred in 2018.
"At last Mnemosyne had a foal worthy of her own ability." - John Boyce
Another useful Lonhro filly, the Listed winner Epidemic, was born a year after Impending, but since then things haven't gone well for Mnemosyne; her 2018 Exosphere colt, a three-parts brother to Impending, is her only other living foal so far.
Lyre, who has now won three straight since her introduction at Flemington, has earned a Timeform rating of 114 after her Blue Diamond win which makes her the second best horse descending from her famous grandam, and indeed in the first five generations of her dam line. She's also the 12th G1 winner for her veteran 21-year-old sire Lonhro.
The ultimate champion
Lonhro himself earned Timeform ratings of 118p at two, 124 at three and 128 at four and five. But these bare numbers hardly do justice to the versatility and consistency shown by this top-class horse who won 25 – including 11 G1s – of his 36 races at all stops from 1100m to 2000m. And there is no doubt that he's already left an indelible mark on the breed, through some outstanding offspring. He's a Champion sire and can name three champion three-year-olds and the best juvenile since 1977 among his progeny.
'There is no doubt that he's already left an indelible mark on the breed, through some outstanding offspring." - John Boyce
Lonhro's son Pierro – like his sire rated 128 – won all three two-year-old races comprising that juvenile triple crown and returned at three to add two more G1s. He's also off to a flyer at stud which bodes well for three other top-class sons of Lonhro in Exosphere (TF127), Kementari (TF125) and Impending (TF122).
Lonhro has sired 72 Stakes winners from his Australian crops. They account for 7.3% of his runners, which is in line with what his mares have achieved with other stallions.
G1 winners by Lonhro
| | | | | | |
| --- | --- | --- | --- | --- | --- |
| 128 | PIERRO | 2009 | C | MISS RIGHT NOTE W | Daylami |
| 127 | EXOSPHERE | 2012 | C | ALTITUDE W | Danzero |
| 127 | MENTAL | 2008 | G | INTRIGUES W | Night Shift |
| 125 | KEMENTARI | 2014 | C | YAVANNA W | Redoute's Choice |
| 124 | DENMAN | 2006 | C | PEACH W | Vain |
| 122 | IMPENDING | 2013 | C | MNEMOSYNE G1w | Encosta de Lago |
| 121 | BEADED | 2005 | F | SUBTLE W | Night Shift |
| 118 | BENFICA | 2008 | C | Hut WG2p | Danehill |
| 118 | BOUNDING | 2010 | F | BELIEVE'N'SUCCEED G3w | Exceed And Excel |
| 114 | LYRE | 2016 | F | Erato P | Street Cry |
| 110 | THE CONGLOMERATE | 2011 | C | REPUBLIC LASS G1w | Canny Lad |
| 109 | ARISTIA | 2015 | F | NAKAAYA G2w | Tiger Hill |
When we narrow down his numbers to elite mares, his percentage of Stakes winners increases to 11% which puts him among the very best sires of the past 30 years. His elite status is confirmed by his best ten offspring average Timeform rating of 123.9, which compares favourably to the likes of Redoute's Choice (124.6) or Snitzel (122.1) and Exceed And Excel (120.5).
Not surprisingly, Danehill-line mares have worked very well with Lonhro: five of his 12 G1 winners, Exosphere, Kementari, Benfica, Bounding and Aristia are from Danehill-line mares. Moreover, he's sired 32 Stakes winners – 44% of his total – from mares with Danehill blood somewhere in their pedigree. Many other broodmare sires have also been successful with Lonhro: former Woodlands incumbents Canny Lad (seven Stakes winners), Night Shift (five Stakes winners), Grand Lodge (four Stakes winners) and Quest For Fame (three Stakes winners) have also done well.
As things stand none of Lonhro's daughters have yet produced a G1 winner, but Osborne Bulls came within inches of setting that record straight in the G1 Lightning a few weeks ago. To date, he's sired the dams of 17 Stakes winners, a first G1 win cannot be far away.