The success of boom first-season sire Better Than Ready appears to have spread to a couple of his fellow Lyndhurst Stud Farm stallions, with Drumbeats and Hidden Dragon both siring stakes winners at Doomben on Saturday.
Drumbeats may have struggled to gain traction in a market focussed on precocity but having recently completed his eighth-season at stud at Lyndhurst, now has two stakes winners thanks to Bergerac's upset win in the Listed Magic Millions Bernborough Hcp.
Earlier in the day, Hidden Dragon, another long-term Lyndhurst resident, marked his seventh stakes winner and his first since 2016 when consistent sprinter Fiery Heights, trained by Barry Lockwood, broke through for his first black-type win in the Listed Magic Millions Falvelon Quality.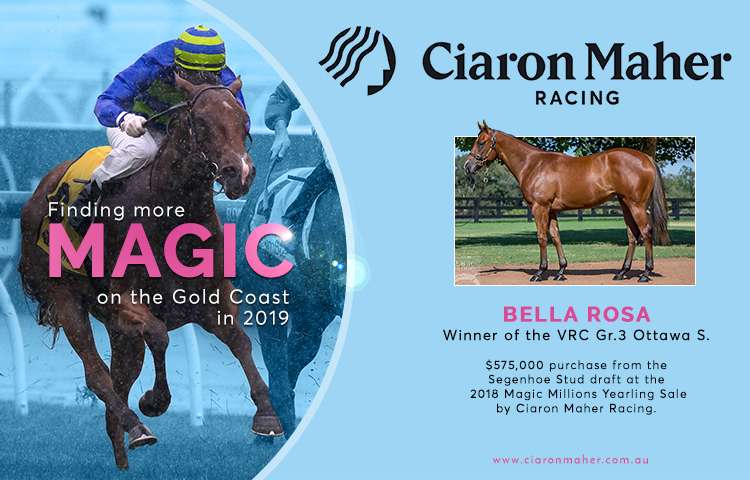 While much of the attention on Lyndhurst Stud in recent months has been on Better Than Ready, who holds a commanding lead on the first-season sires table, Lyndhurst Stud manager Jeff Kruger was delighted with the success for a couple of his other stallions.
Reward for Tregea
Five-year-old Bergerac registered his eighth and most important win from 22 starts for trainer, owner and breeder Steve Tregea, thanks to a perfect ride from Michael Murphy.
"It didn't surprise me to see him feature yesterday." - Lyndhurst Stud Manager, Jeff Kruger
"Bergerac is a very good horse. He's a Sydney winner. It didn't surprise me to see him feature yesterday. He's trained by my favourite trainer, Steve Tregea. I'm happy to be quoted on that. I said to Steve, you're my favourite trainer, but he doesn't train for anybody else," Kruger said.
"He's a very good trainer and he's a very good breeder. I was particularly pleased for him."
Kruger said Tregea has supported Drumbeats throughout his career at stud as a shareholder in the stallion and it was fitting he would taste stakes success with one of his best performed progeny.
"He's a shareholder in Drumbeats. He had some of the family and he took a stab and bought into him as a stallion. Being a good breeder, it's apt he has bred the best one so far," he said.
Bergerac joins 2018 BRC Lightning H. winner Tarzan as Drumbeats' stakes winners, but Kruger admits it has been difficult for the stallion to attract mares. He served over 100 mares in his first three years from 2011-2013, but that dropped to just 21 in 2017.
"His numbers have dwindled dramatically in recent years so you aren't going to see too many bob up in stakes races," he said. "He doesn't get early 2-year-olds, so he's not really that popular."
"He's a lovely bred horse, that you've just got to give them time and with all the prizemoney jammed into two and three-year old racing, I don't think people are prepared to give them time."
Hidden gem gets just desserts
Hidden Dragon, who stood for $4000 this season, may have not produced a stakes winner in a couple of years before Fiery Heights' success on Saturday, but Kruger said his record of getting consistent winners has seen him retain consistent numbers of mares in recent years.
"Fiery Heights is one of Brisbane's better sprinters. He's a very good horse over 1100m-1200m. Hidden Dragon tends to get forgotten a little. He's a very good winner-getter, a prolific winner-getter, and he usually has a good horse bob up every season," he said.
"Hidden Dragon tends to get forgotten a little. He's a very good winner-getter." - Jeff Kruger
Kruger said the result was just rewards for owner and breeder Neil Skienars, who had been an excellent supporter of Lyndhurst stallions with his mares, and recently sent one of them to Better Than Ready.
On Better Than Ready, Kruger said he can barely wait for January 12, where at least four of his progeny, The Odyssey, Better Reflection, Betaima and Girls Are Ready, will be flying the flag in the $2m Magic Millions 2YO Classic.
"To have four of the top eight chances in the race it's a fair feather in his cap," he said.