The numbers tell us that the 2019 Inglis Classic Sale in February will be the biggest and strongest yet, but Inglis's Chris Russell believes the consistent quality of the catalogue will be what makes potential buyers stand up and take notice.
The 2018 Classic Sale rewrote all the record books in its first year at Riverside Stables, with the Book 1 average and gross sales up by 34 per cent on the previous year.
The 2019 catalogue has just been released and the sale, to be held from February 9 to 14, is poised to deliver more growth with 808 yearlings in Book 1 and a further 205 youngsters catalogued as part of the inaugural Highway Session.
Russell, Inglis's NSW Bloodstock Manager, said a record interest in the sale – there were over 2,500 applications – ensures a depth which will continue the Classic Sale's upward progress.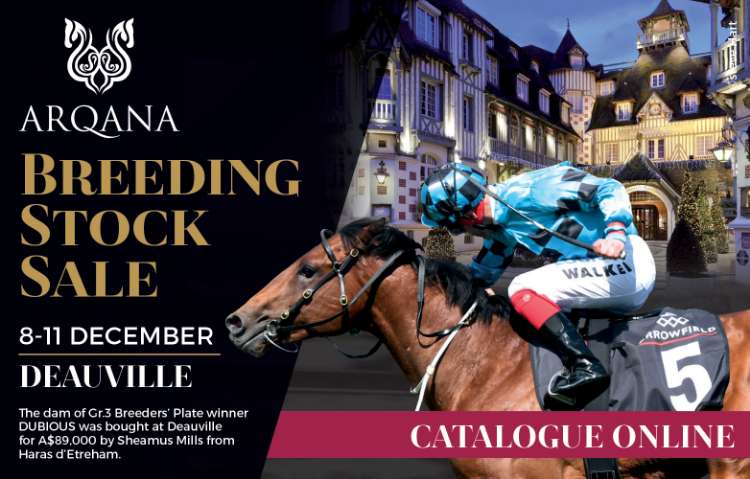 "It's a sale that over the last four or five years has had huge growth," he told TDN AusNZ.
"A lot of the bigger farms are sitting up and taking notice on what a great sale it is." - Chris Russell
"It went from having that $30-40,000 averages to increase significantly year on year [Book 1 averaged $93,000 in 2018]. A lot of the bigger farms are sitting up and taking notice on what a great sale it is, and the good results that come out of it, and as a result they are all chiming in."
That support is indicated by the vendor list for the 2019 sale which includes all the major operators. Widden Stud leads to way with 65 entries ahead of Arrowfield (46), Newgate Farm (37), Newhaven Park (30) and Vinery Stud (29).
"The vendors are switching because there's some great prices being realised. It's pushing the ceiling as well. You can bring a nice horse and get a great result with it," Russell said.
Type plus pedigree
Despite the rising prices, Russell said that one of the great appeals of the Classic Sale is that it is still very much a place where the small to medium-sized players who are interested in selecting on type, can get involved.
"You can have a lot of fun at Classic. If you come with $150,000, you've got a live chance on a huge percentage of the catalogue. That's why people enjoy going there," he said.
"We are very type focused and that's what Classic is, it's full of good sorts. They can have a crack at a lot of different horses, good sorts and a lot of them which fall into their market."
The knock-on effect of the depth of interest in the sale is the skyrocketing number of yearlings boasting black-type in their pedigree page in 2019.
There are relations to 76 stakes winners (up from 63 last year) and progeny of 103 stakes-winning mares (up from 60 last year).
"If you look at the depth of the catalogue in terms of pedigree, we always focus on type at Classic. We want to put good types in because inevitably they are the ones that run, but with that, we are certainly getting the pedigrees there," Russell said.
"We want to put good types in because inevitably they are the ones that run." - Chris Russell
"The progeny of stakes winners has gone up two-thirds from 60 to over 100, and that includes 10 Group 1 winners."
"It's great to see the way that Classic has evolved over the last few years. Of course we are type-focused, but we are getting the pedigrees to boot as well. We've got all the right sires represented too. We've assembled that top-class catalogue."
Also well represented are the always-in-demand first-season sires – 22 in all – including the Coolmore pair Pride of Dubai and Vancouver, Vinery duo Press Statement and Headwater, as well as Widden's Outreach.
"People like buying from first-season sires, but when they look like the crops that they are throwing this year, they are such physical types, they are easy to put in the sale. They should sell well accordingly," Russell said.
$2m Inglis Millennium sets the scene
This year's Classic Sale will run off the back of the Inglis Race Day at Warwick Farm on February 9 which will feature the inaugural $2m Inglis Millennium for 2-year-olds and $1m Inglis Sprint for 3-year-olds.
The Gold Riband session of 63 horses which have been specifically identified as likely 2-year-old types, kicks things off on the Saturday night.
Russell said the addition of the Highway Session on Thursday, February 14, as Book 2, which follows the Highway Race Day at Warwick Farm a day earlier, adds depth to the buying bench, helping to meet the demand from country buyers for access to a yearling auction earlier in the sales season.
"With the way prize money is in NSW, it is very strong, but a lot of those country and provincial guys, with Classic averages going up last year, they are probably struggling to compete at that level," he said.
"They probably only had Scone to go to really. But by having an earlier sale, we are targeting it at them with mostly BOBS horses and combining it with the two Highway races on the Wednesday.
"We look forward to the inaugural Highway Session being a success."