Tyreel's Linda Monds took some time during a very busy time of the year to chat to TDN AusNZ about their mating plans for this season for the 30 broodmares they have on their property along with a small number of client-owned mares.
Tyreel will look to support an even mix of proven and first-year sires with their broodmares this season, with Catalonia (Flying Spur), who produced their highest-priced yearling at this year's sales, headed back to I am Invincible.
Monds revealed that the stallion selection process is a long and drawn-out one, with an aim on finding a perfect physical match.
"We start looking at our mating plans pretty much just after the Easter sales," she said. "We start looking at the sales results and what's happening on the track and how ours have sold."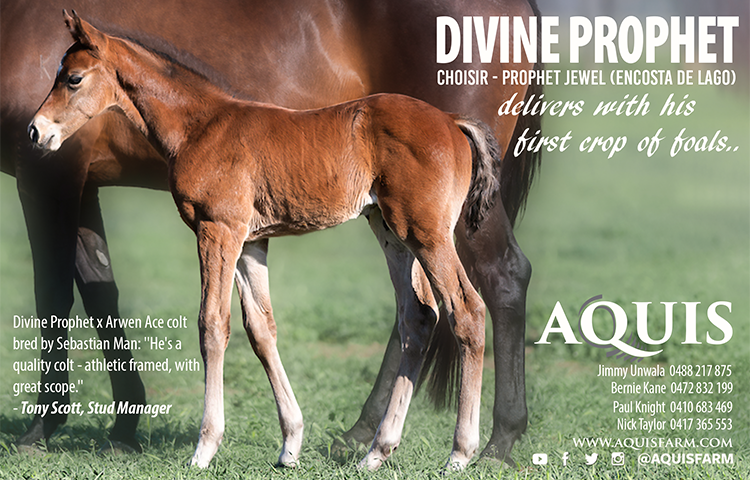 "We reflect on the physical types of the mares that we own have already produced. Always wanting to improve. If we don't feel we can improve because they were perfect, then we want to replicate what we've already produced."
"The major factor for us is the physical. We really aim to produce that outstanding physical article."
Monds said the final decision is worked out around a table considering all the factors. Some decisions are easier than others.
"If we don't feel we can improve because they were perfect, then we want to replicate what we've already produced." - Lisa Monds
Replicating past success
Catalonia has been an outstanding producer with her two yearlings to date going for $625,000 for the first filly by More Than Ready (USA) and then $750,000 for a filly by I Am Invincible at this year's Easter Sales.
The most recent filly, named Espaaniyah, was bought by Emirates Park and will be trained by Gai Waterhouse and Adrian Bott.
"The major factor for us is the physical. We really aim to produce that outstanding physical article." - Lisa Monds
Monds said there was no doubt where Catalonia was headed again this season.
"She produced the perfect article there, so again, why not try and replicate that. I have faith in that filly and I believe in Emirates who have her and they will look after her," she said.
A colt by Sebring out of the mare Pinocchio (Encosta De Lago) fetched $575,000 at the Easter Sales.
Watch: The Sebring x Pinocchio colt
Pinocchio slipped to So You Think the next year but a subsequent visit last year has produced a foal born in late August.
"This year she's given us a So You Think colt on the ground, he is absolutely outstanding, He's black, I think he'll be black-grey. He's just beautiful," she said.
Pinnochio, whose first foal by Foxwedge, Puppet Master, is a four-time winner for Gary Portelli, will visit Pierro at Coolmore this spring.
"I think physically that's a really good mating," Monds said.
Late decision on Written Dash
The Classic Yearling Sales saw Tyreel sell a colt by Brazen Beau out of Written Dash (Written Tycoon) for $480,000 to Orbis Bloodstock. Named Potentia, he is being prepared by Kris Lees.
Monds expecting the younger yearling brother by Exceed and Excel to make a considerable impression at the sales in 2019.
A later expected foaling date to I Am Invincible has seen Monds and her team hold their fire on where Written Dash goes this year, but she suspects it will be back to I Am Invincible again.
Tyreel have one nomination for Widden's Zoustar this season and that will go to Family Crest (Fastnet Rock), whose I Am Invincible colt, now named Invincible Pride, went for $360,000 at the 2017 Classic Sale.
"She consistently produces really good types and I think that's perfect mating, " she said of the decision to send Family Crest to Zoustar.
First-year options
In terms of first-year stallion options, Monds will send between 10-15 of her mares in that direction.
Among them is Happy Hippy, whose Exceed and Excel filly went for $250,000 at this year's Classic Sale.
She's headed to Hellbent, who Monds is a big fan of.
"I really like him physically and I have a lot of faith in the Mitchell family and Yarraman Park," she said.
Russian Revolution is another first-season sire she will utilise with Crafty Irna, who hasn't had one at the sales since her colt by Sebring sold for $400,000 at the 2016 Ready To Run Sale.
"I do have such a broad range of mares that most of the time I can find a really good match with a first season sire," she said.
Tyreel will also send mares to first-season stallion Merchant Navy.